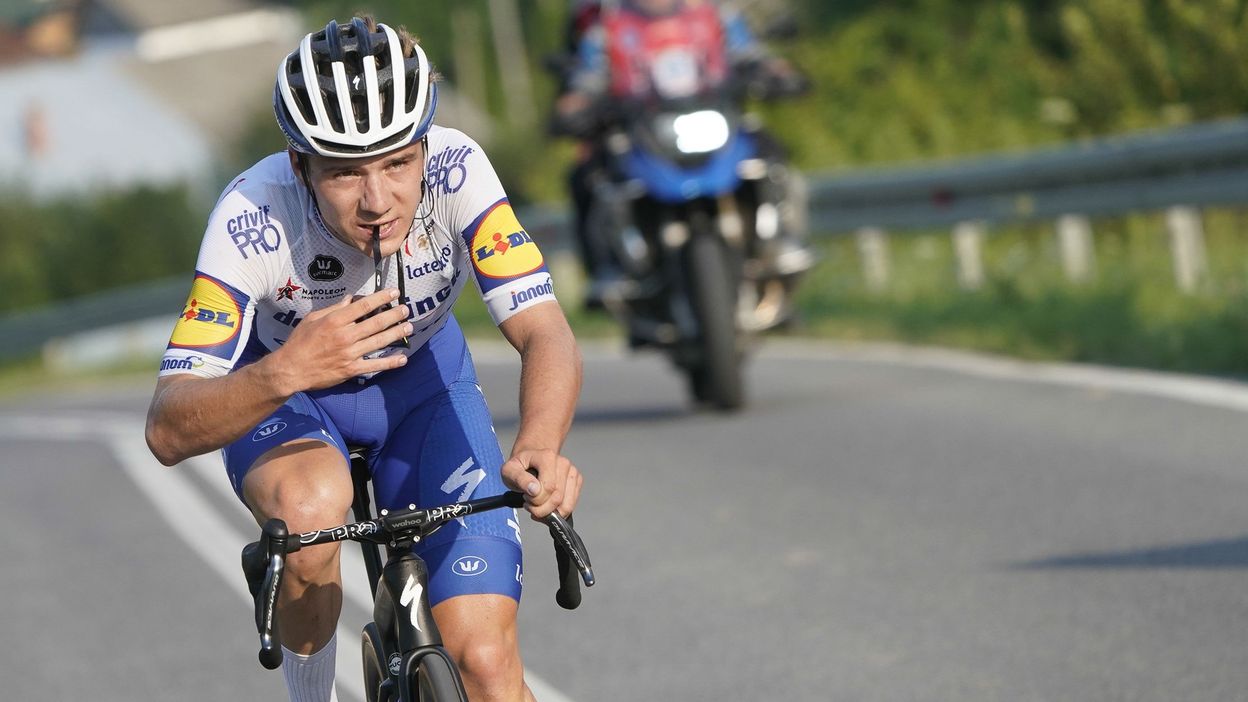 Remco Evenepoel will play this Saturday on the Tour of Lombardy his first one-day race of the season, his first classic of the season, but also and above all, the first cycling monument of his career. The young rider arrives in Italy with high morale. Remco has competed in two races since recovering from confinement, two races where he won (Burgos Tower and Tour of Poland). And if we go back to the beginning of the season, there are even incredible four in a row Tour of San Juan and that Algarve Tour.
In order to respect as much as possible the security measures linked to the coronavirus, Remco Evenepoel recommended Saturday̵
7;s race from his hotel room, through a video conference. As usual, Remco seemed peaceful, well on his feet, morale increased (and this is quite normal) from his recent successes.
"I can not wait to compete in this Tour of Lombardy. It is an even more difficult race than Calsica San Sebastian. The finish is very hard, during the last 80 kilometers there are very few flat areas where you can recover. It's up and down all the time. But I have a feeling that this race, with this path, is created for me. It suits me very well "
, explains Remco.
"I have not looked at the list of participants yet"
The leader of Deceuninck-Quick Step accepts and quite logically accepts as favorite number 1. "It's probably my fault eh if I'm declared the big favorite (Laughing). It is true that my results are there, but I draw a positive energy from it. I'm in the best shape of my season. And for a race like the Tour of Lombardy, you have to be in good shape. When it comes to pressure, I work a lot with the team to deal with it and try to release it as much as possible. To be honest, I have not looked at the list of participants yet. I still have to check this. But I know that Vincenzo Nibali and Jakob Fuglsang will be here. They're obviously one of the favorites ".
"My first monument gives me a healthy form of stress and nervousness"
"This tour of Lombardy is really important to me because it is my first monument. Without COVID-19, I would normally have to start with Liège-Bastogne-Liège. These are the two one-day races I prefer. Monument is a special "moment, it will be a special day for me. I would not say that it scares me, but it is clear that there is a kind of stress and healthy nervousness."
"I watched the Tour of Lombardy a lot on TV when I was young. I think day races are more readable than stage races. On a lap it's harder to control because you never know when and where it can move and be decided. It's more "Crystal clear and predictable in a classic. You ask me what can stop me from winning? There are many bad things that can happen, like a flat tire a mechanical problem at a critical moment in the race".
"We'll see on Saturday if the Italian public likes me or not"
Remco Evenepoel will spend a lot of time in Italy in the coming weeks. Tour of Lombardy on Saturday, Tirreno-Adriatico in early September, and then the Giro in October. "Riding in Italy is special. There is a special atmosphere here. Together with Belgium, it is these two countries where cycling lives most. It is part of the Italian culture. And I like the rugged roads in this country. Regardless of the Italians already like me or not? We see on Saturday (laughs). I only have good memories when I went in this country. My relations with the Italian riders and the Italian press are good. ".
Remco impressed Wout Van Aert
If Remco represents the future (which already exists) for Belgian cycling, he shares this role with Wout Van Aert, the man with the legs of fire in recent days. "The power that Wout puts into his attacks and sprints is incredible. His last punch is impressive. We can obviously only be proud to be his countrymen. It feels good to see Belgian cycling perform so well.", details Remco Evenepoel.
Compared to the worlds: "I can only hope that the UCI finds a similar course"
The young runner also reacted the cancellation of the worlds in Switzerland, he who had ambitions for the stopwatch and road race. "I had already made some preparations for the worlds. The course has some steep climbs and I had already trained for it. It is a pity that the worlds are interrupted. I also read that UCI I am looking for a similar course and I can only hope that they find it "I trust them to make it happen.", concludes Remco.