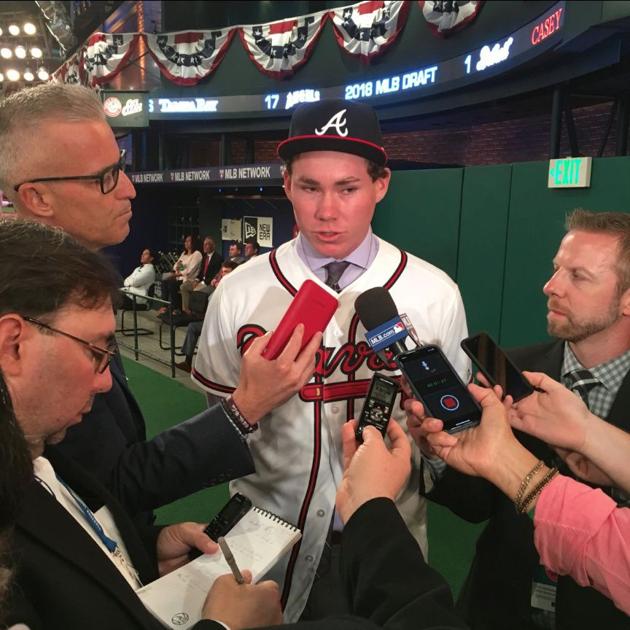 Atlanta Braves used his first round of Major League Baseball Draft picking Monday night at the Florida High School pitcher Carter Stewart.
Atlanta took 6-foot-6, 200 pound right-handed corps at No. 8 in total. Stewart played at the Eau Gallie High School, where he was known for his plus-curve ball and touched 98 mph this season at the radar gun.
Stewart's pre-draft analysis centered around its curve ball, which has a spinning speed that matches some of the highest spinning rates currently in the big Hans wrestling ball has the highest average spinning speed in amateur baseball, according to TrackMan, with service recording a pitch he threw with the fifth highest spin speed ever tracked.
Stewart went 6-4 with 1
28 strikes, 26 hits allowed and a 0.91 ERA (8 ER / 61 2/3 IP) in 11 matches at the height of Eau Gallie this season while it was named this year's Gator player in Florida . He also beat .313 with seven home runs to help Commodores to Class 6A, District 13 Semifinals.
"We are lucky to add Carter to the organization," says Brave's director of amateur search Brian Bridges. "We've been lucky to choose Braves-type pots, Braves-type players in recent years, and we think Carter is another example of that kind of player."
Stewart entered the draft rated by MLB.com as the fifth best view in the draft and the second best upper secondary school. Baseball America is also called Stewart as the second best college player available, and the third best right-handed pot in total.
Mississippi State Signe said in the MLB Network draft that his family members are Diehard Braves fans. [19659003] The Braves selected Wichita State first baseman Greyson Janista with his second round choose (No. 49 in total).
Jenista, 21, beat .309 (63 for 204) with 54 runs, nine home runs and 38 RBI in 56 matches. During his three-year career with Shockers, he batted .318 (192-for-604) with 23 home teams and 111 RBI in 171 games.
The 6-foot-4, 220-pound native of Eudora, Kan., 56 started in the field this season, including 32 in the midfield, 21 at the first base and three in the left-hand field.
Jenista, who slammed left-handed and throwing right-handed, entered the draft rated by Baseball America as the 29th overall outlook. He was named MVP of the Cape Cod League last summer after batting .310.
Jenista is the highest collegiate outfielder developed by Atlanta since 1991, when the club chose Mike Kelly second overall of Arizona State University.