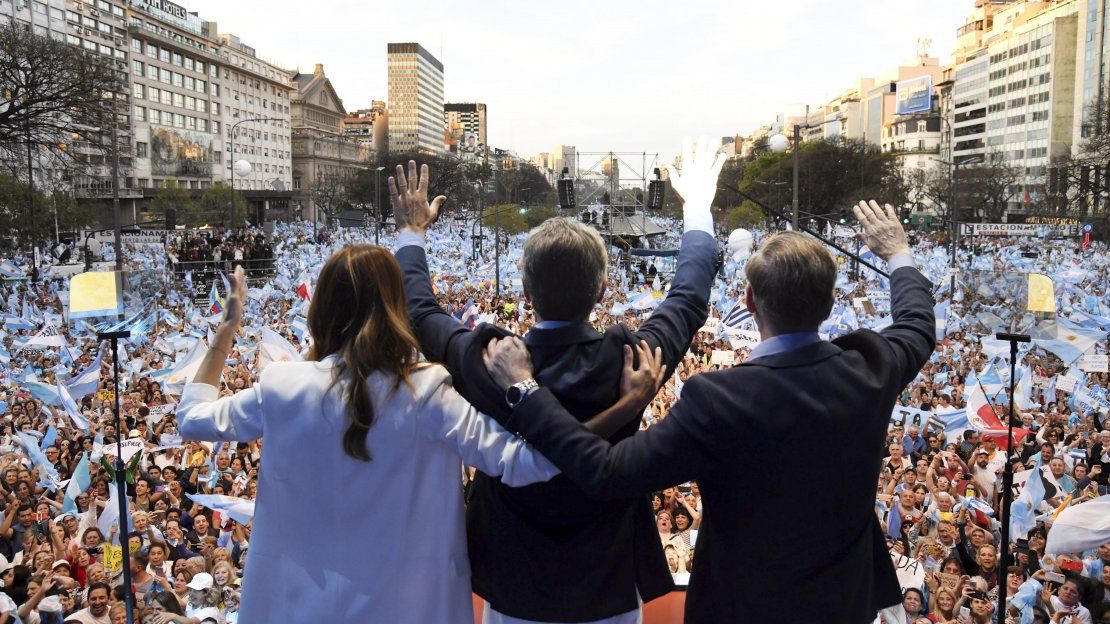 "We must reverse the election. We all know that Sunday 27 is the real choice and not just any choice. It will define our future in many That's why this energy has to be turned into action to convince those who still have doubts, "said the president, accompanied by his candidate for vice president, Miguel Ángel Pichetto and his wife Juliana Awada.
At the same time, the governor of Buenos Aires, María Eugenia Vidal and a candidate for re-election, were placed in a side box and followed the speech of her political leaders wrapped in an Argentine flag. From there he accompanied the people's choirs and waved his arm.
Macri harangued government supporters to "not" stay "silent" in front of those who "steal the future" and asked "not to fall into mirages, in the same empty promises of those who so many times released them. "
"We do not think silently when we see how they steal our future, we already live it many times, with fingers, with lectern, with a seizure, with pride, with the way of imagining the power that many Argentines reject. Enough of that! " Macri launched.
In a speech that pointed directly to the Front for All under the leadership of Alberto Fernández, the winner of the August premiere, the President added: "Let us not fall into mirage, in the same empty promises of those who so many times let us go."
"We do not accept that those who destroyed the country tell us with their fingers high that they are the ones who know" the president said, pointing to the gesture with his index finger which he denied Fernandez during the October 13 debate.
The president also made a mea culpa for his way of seeing politics during his career in public service. "We also have to realize that we are a majority who often looked at politics from a long way and thought it would never change and leave everything in the hands of some who took over the state and the public but fortunately We woke up. This is the rebellion, but the rebellion of the peoples of peace who are not willing to carry us over and over again. "
" Getting here was much harder than we thought, but solving the problems takes time and you know it. But we did not err when we thought that change was possible and when we saw the potential that we have as a society.
We demonstrated that we could produce energy in Dead Cow, that we could do works without corruption, that we could have social policies without protection that carried the state where it did not reach, "Macri continued.
" This effort was worth it to grow, today we stand on solid foundations, there are stages of growth, more work for better wages for Argentines all over the shoulder they have laid, "he said, insisting on closing: " This is Argentina's strength, so we will reverse the election and we will turn Argentina's history forever. "
Source link