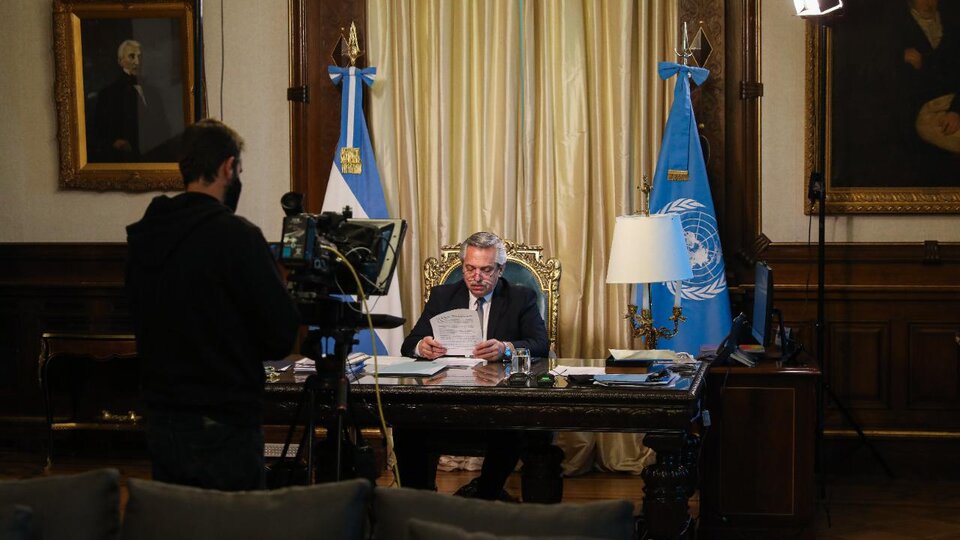 In his first speech to UN General Assembly (UN), President Alberto Fernandez He called for "recreating multilateralism based on solidarity" to overcome the health and social crisis caused by the pandemic. In addition, he noted that the coronavirus vaccine should be considered as "a global universal good, accessible to all nations".
During his presentation – which takes place in a virtual way due to sanitary constraints – the president emphasized the sermon of Pope Francis and urged world leaders to "think about how to get better and not worse out of this crisis." "It is not time to globalize indifference but to globalize solidarity"Said the head of state.
"If we join doctors, researchers, investors and scientific systems from around the world to discover a vaccine that prevents COVID-1
9, we must be able to dream and build a vaccine against social injustice, environmental predation and discrimination. in all its forms, Fernández emphasized. In relation to the vaccine produced to prevent COVID-19, the Argentine President considered that "
it must be a global public that is accessible to all nations in a fair way
".
Ecology and gender equality
For his part, the President stressed that "a collective commitment is necessary to achieve the swift and effective implementation of the Paris Agreement." "No one is saved alone on a planet that catches fire, floods or is poisoned," he said, adding: "Our country is committed to an agenda for a fair transition to integrated and sustainable development" which includes "strengthening productivity and economic competitiveness and creating jobs ".
In addition, he stressed that the crisis caused by the coronavirus "has emphasized the serious inequality between the sexes"And highlighted the importance" of the work that millions of people, mostly women, contribute with unpaid household and care work. "
Source link