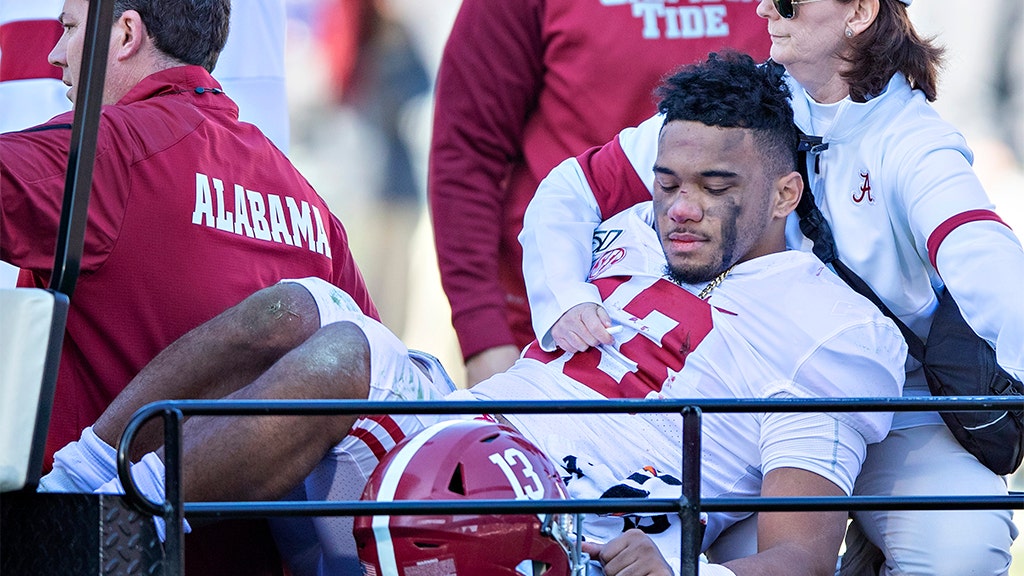 Alabama quarterback Tua Tagovailoa will miss the rest of this season after suffering a misaligned right hip in the Crimson Tide & # 39; s 38-7 victory over Mississippi State Saturday.
Tagovailoa, long regarded as a potential top pick in next year's NFL Draft, was injured late in the first half when he was dealt by two Mississippi State players while striding toward the sideline. He was mapped by the field on a stretcher and later flown by helicopter to St. Vincent & # 39; s Medical Center in Birmingham, Ala.
"He is undergoing further tests to determine the best course of treatment," Alabama orthopedic surgeon Lyle Cain said in a statement. "He is expected to make a full recovery but will miss the rest of the season."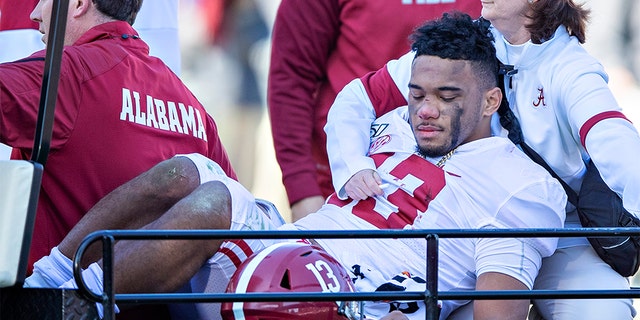 Tagovailoa underwent surgery on a sprained right ankle 27 days ago after injuring it against Tennessee on October 19. He missed the second half of that game as well as the Tides' 48-7 victory over Arkansas the next week. He returned last week against LSU, throwing four touchdowns and one interception in a 46-41 loss to the Tigers.
LSU KEEP ALABAMA IN VERY ANTICIPATED SHOOTOUT
ALABAMA 5TH IN CFP Committee rankings after loss to LSU
Alabama coach Nick Saban said that remove Tagovailoa from the game before the series when the quarterback was injured. Alabama led 35-7, but it was decided to let Tagovailoa play another holding to get some work done in the two-minute drill.
"We can guess ourselves all we want," Saban said after the match. "We were preparing [backup quarterback] Mac [Jones] to warm up and we would go two minutes before half time. Tua wanted to play in the game and so I don't really make many decisions worrying if a guy will get hurt. "
Source link